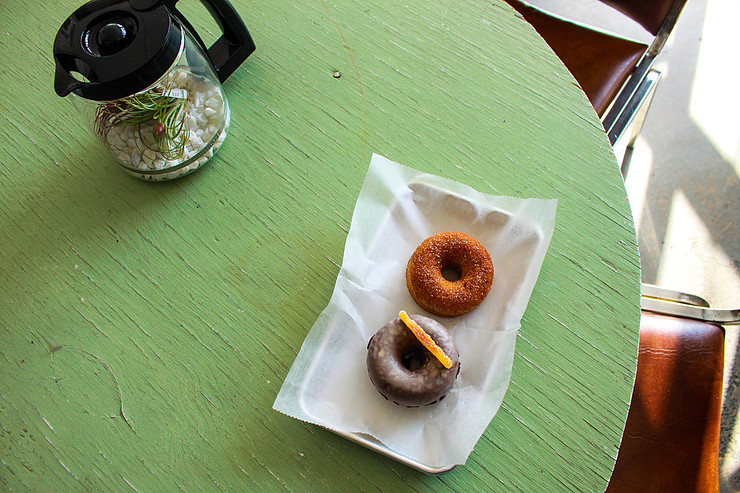 Nestled on a main street that should be in a Hallmark movie is the most quaint and welcoming store, Heirloom Market at Comstock Ferre. This local shop duals as a place to pick up you local organic produce and products as well as the best place to pick up a cup of coffee. Whether it is catching up with friends, sitting down with your laptop to do work, or just grabbing a quick cup of joe on the run, this place has everything you may need. Their rotational assortment of breakfast and lunch menus are all fresh and local based.
As a native of the area I have always visited Heirloom Market for their fantastic coffee, but was delighted when I saw they started to feature donuts in their baked goods! When I first saw their donuts on Instagram, by the time I went to visit the shop at 10:30 am that morning, they were already SOLD OUT! I figured these must be some amazing donuts and they did not disappoint one bit!
I had the wonderful opportunity to try their Chocolate Orange donut with a cara cara gaze and candied orange peel as well as the Apple Cider donut brushed with miso and a sprinkling of cinnamon & sugar.
W O W. These hidden gems were spectacular little donuts that packed a punch of flavor. The lightness of the chocolate donut melted in your mouth and the candied orange was the perfect sweetness to end the donut! The Apple Cider donut was the perfect treat on a brisk winter day. The fresh apple taste exploded in your mouth and was a delectable experience.
In addition to their incredible taste, the best thing about these donuts is that they are made with all organic (or as many possible) ingredients. All the baked goods and food are created under the philosophy of being free of artificial ingredients and flavors. So you can feel healthy when devouring these fun donuts!
Now I understand how these donuts sold out so quickly the first time I tried to taste them! If you are ever in the Old Wethersfield neighborhood, swing by Heirloom Market at Comstock Ferre to try their coffee & donuts.
-Thank you to Julia & the crew at Heirloom Market for the visit!
Click here to learn more about their "seed to plate" philosophy!
Click here to find other donut shops in the Donut Diary!
---