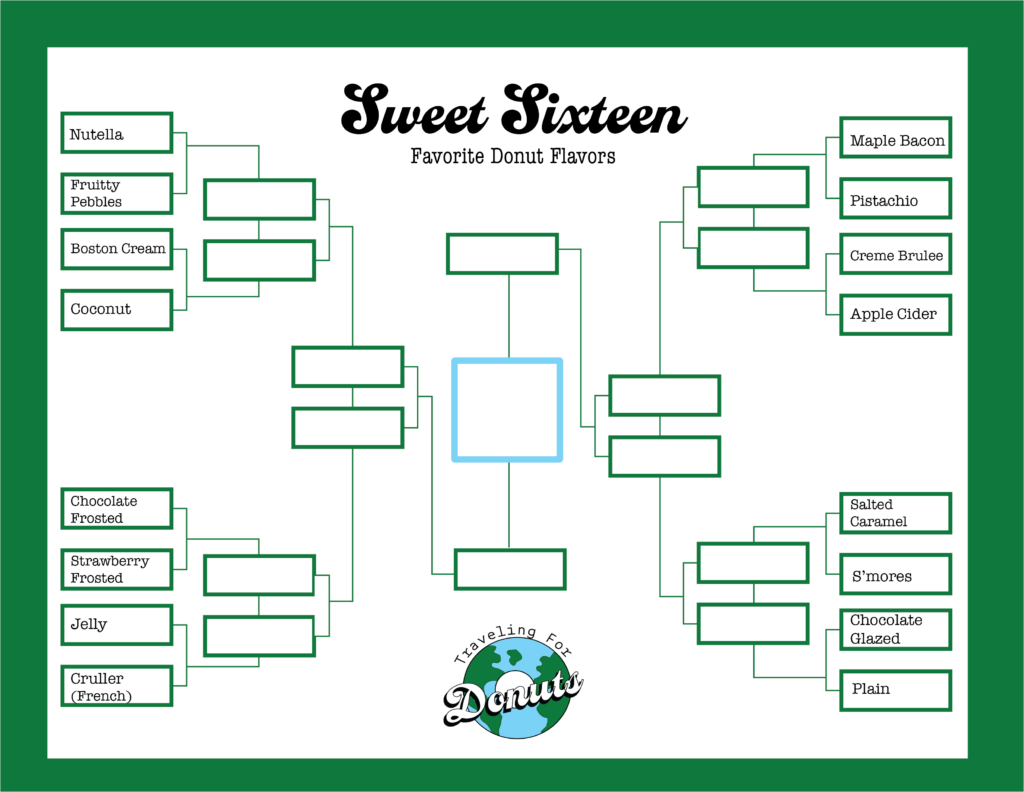 Going mad by staying at home? During this time of social distancing I have been doing a lot thinking, and I started to wonder… What is the most popular flavor of donuts? Now is the time to find out and the answer will be voted by YOU!
In honor of March Madness, here at Traveling For Donuts we are doing a 'Sweet Sixteen Flavors bracket contest!
Fill out a bracket of your top donut flavors and submit it by this Wednesday 3/25. Users that guess the winning flavor will be entered into a raffle to win a prize. Download the bracket here or you can screenshot the instagram post, instagram story!
Read below for full contest rules:
Follow @TravelingForDonuts on Instagram
Fill out your bracket of the most popular donut flavors
Submit your Sweet Sixteen Flavors bracket by Wednesday 3/25 @ 11:59 pm via Instagram DM or emailing [email protected]
Vote for your favorite flavor on @TravelingForDonuts Instagram story starting Thursday 3/26
Voting for each round is open for 24 hours!!
Any bracket that guesses the final flavor correctly will be entered into the prize raffle
Winner will be announced on April 3rd, 2020
EXTRA RAFFLE ENTRY post your #SweetSixteenFlavor bracket to your instagram story & tag @travelingfordonuts
✨ This contest is not sponsored by Instagram. Prize valued at $5. Winner must be over 18 years of age. The photos associated with the flavors are not sponsored by the direct business. Sweet Sixteen Flavors is not in association with the NCAA